Bob Cornelis is a California-based photographer who has been exhibiting his work for the last 20 years. He also has a background in painting and monoprinting, efforts which continue to influence his photographic work.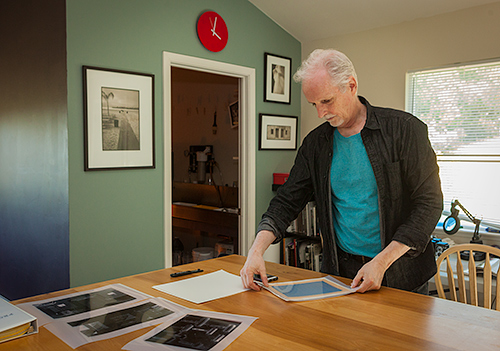 After a long career in technology, Bob turned his attention to the art world and established one of the earliest fine art digital printing studios in the country. His focus from the beginning has been on the art of the print, and in the last several years he has dedicated himself to the craft of printmaking using 19th century techniques such as platinum/palladium, gum bichromate  and cyanotype. He often combines these prints with handset letterpress and handbound books to create one-of-a-kind art objects.
Bob is largely self-taught but has studied with various photographers, letterpress mentors and bookmakers over time including Keith Carter, Kerik Kouklis, John DeMerritt, Eric Johnson and Brian Taylor.
His work has been shown in galleries and museums around the country and he has been published in periodicals including The Hand and Diffusion. In 2013 he published a book STUDIO: 50 Sonoma County Artists.
---
ARTIST STATEMENT
Our reality is constantly being created by our vision.
Photography changes the way I see, and so allows me to create a different and more compelling world. As I visualize a photograph, I am aware of its unique perspective on a subject that could be seen in many other ways. By seeing it this way, I move my world in a singular direction.
Taking the picture is an important part of the creative act, though it is only the first of the choices to be made. How the image is presented to the world is another critical opportunity to refine and express my personal vision.
So much of photography in the 21st century has been dematerialized, confined to the uniform rectangle of computer screens. I feel my photographs can be brought to life when presented through the more personally expressive medium of the print. I choose to create handmade prints using methods of the early days of photography that infuse the work with a greater sense of presence and emotion. Through the use of platinum/palladium, gum bichromate, cyanotype and other 19th century processes, I am able to engage the senses of the viewer in a way that more uniquely reveals my individual vision.
My prints often find their way into handmade books, a wonderful and intimate way to experience them. Holding in your hand a one-of-a-kind book bound in handmade papers, containing handset letterpress and traditional prints, is a profoundly different experience than seeing a photograph on a screen. The veil of digital uniformity is stripped away, enabling a more direct encounter with the work, while simultaneously disclosing a bit more about me to the viewer.
This intersection of personal craft and vision is my way of creating and sharing the world as I see it.